Storytelling is coming for your favourite sport. Is that a good thing?
Reality TV is bringing sports like F1 to the uninitiated. Fans say the format shines a light on a world usually hidden from view by media gatekeepers. Others aren't so sure.
Published

30 Jun 2022
Written by
Categories
Reading time

8 min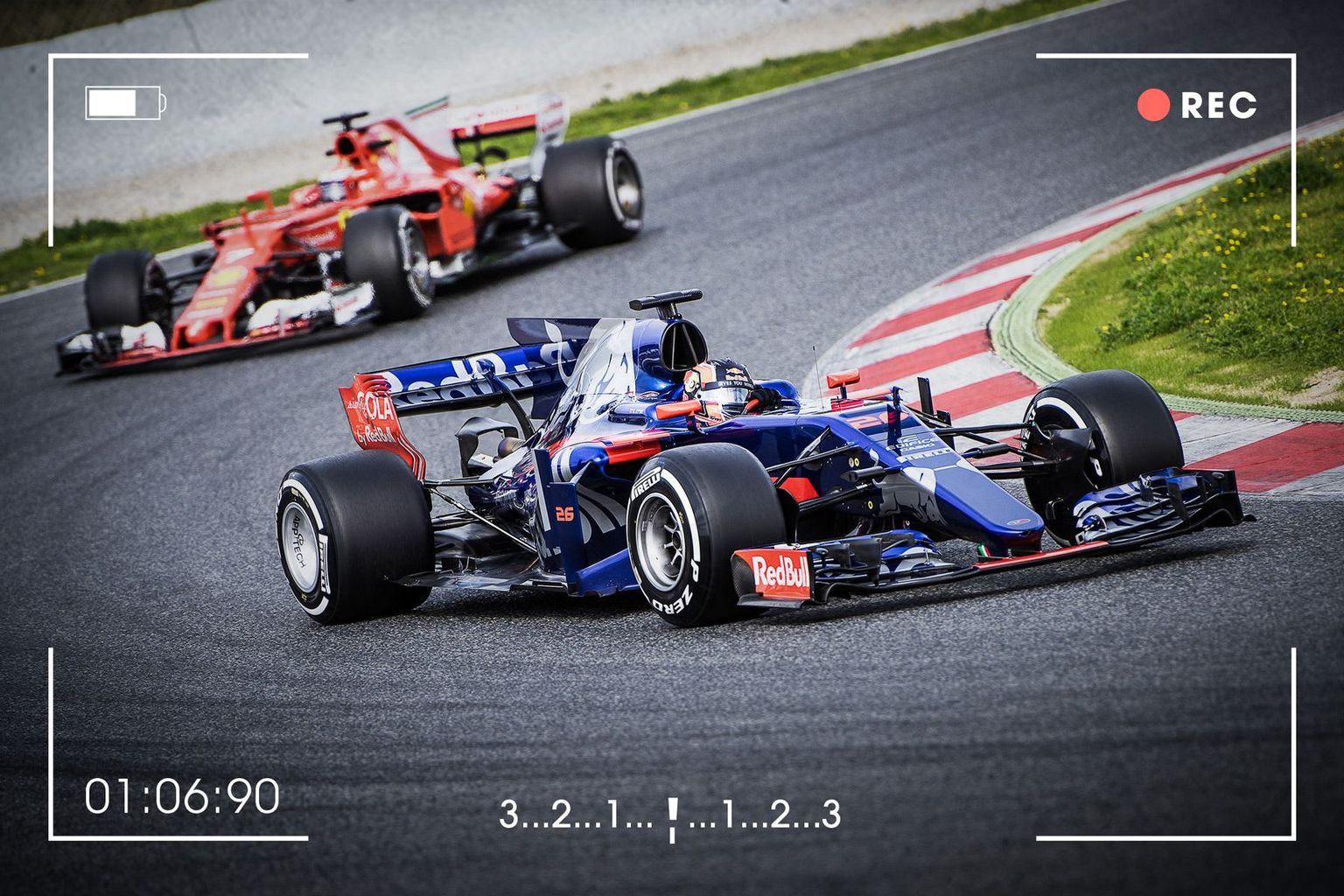 Something strange has been happening in recent years. Formula 1, a motor-racing discipline with a long history and traditionalist fan base, has experienced a boom in popularity. Its television audience in the United States has doubled; globally, F1 has seen a surge in interest from an increasingly diverse (read: not entirely male) audience.
The cause? A reality TV series—and the total reinvention of storytelling in sport.
At first glance, it may seem that sport has always put narrative front and centre. The heroes and villains, the triumphs over adversity, the last-minute victories: sport is a three-act structure told in 20-minute quarters, a Shakespearian drama played out in spandex. For most of sporting history, that drama unfolded on the field (or the court, or the pool), the plot advancing by points scored or laps completed.
Then, a few years ago, a filmmaker named Paul Martin started wondering what those storylines might look like without all the, well, you know, sport.
"There was a lot of sports content out there," Martin says. "But there wasn't really anything focused on character and story and narrative." Pondering whether there might be a gap in the otherwise-saturated sports media landscape, he began to experiment with the idea of a sports show that treated sport as a secondary element. Or, as Martin puts it, a show where sport "is just the arena in which these amazing stories happen".
To make that dream a reality, Martin and fellow filmmaker James Gay-Rees founded Box to Box Films. In the six years since, the duo has turned sports media on its head. Formula 1 was first; Drive to Survive, Martin's Netflix series about the lives of the world's fastest F1 drivers, is now in its fourth season. Surfing has followed—Box to Box recently released Make or Break on Apple TV+. Golf, tennis and the Tour de France are all set to follow.
From the get-go, Martin knew he wanted to create a sports show with character and narrative at its core. But the path forward wasn't always easy. In Formula 1, racing outfits were concerned about interlopers like Martin becoming privy to sensitive data and design information. Indeed, two of the best teams, Mercedes and Ferrari, refused to participate in the first season of Drive to Survive. (They changed their minds after the first season proved a success.)
The challenges Martin and Gay-Rees faced reflect wider barriers between media and athletes in a sporting era where access is tightly controlled. Media managers and PR operatives increasingly act as gatekeepers to sporting stars, while athletes are media trained to beat out any real personality (exhibit A: the mundane cliches offered by players on live broadcasts as they trudge off at the end of a match). With their time a valuable commodity, few sports stars will agree to the access needed for a writer to really dig beneath the surface. It is rare to be offered longer than 20 minutes to interview an athlete.
Storytelling is inherently a subjective pursuit; one person's captivating storyline is another's sensationalism.
Despite this, Martin managed to convince Formula 1 to take a chance on his TV show. Lo and behold—the show was a surprise hit. Now, other sporting bodies are waking up to the untapped gold mine that is narrative storytelling, which, when done well, can expand a sport's appeal and draw in new, more dedicated fans. "Live sport is obviously always focused on the performance and the result," Martin explains. "But we're not focused on the results. We're focused on finding the stories and the characters within it."
With two hit shows under his belt, Martin has been able to shine a light on some rarely seen corners of the sporting world. And though some athletes were initially sceptical about letting a camera crew in to inspect what would otherwise be media managed to within an inch of its life, many are now its biggest proponents.
"Everyone has been really stoked," says Make or Break star Jessi Miley-Dyer, a former pro surfer and head of competition at the World Surf League. To make the docuseries, the Box to Box film crew embedded within the competition bubble, dissolving the typical athlete-media divide. "They almost feel like family at this stage," Miley-Dyer says of the crew. Oscar Piastri, a reserve driver for Formula 1 team Alpine, chuckles that the Drive to Survive popularity boost has seen him recognised on the street (all the more remarkable given he has not yet featured on the show). "I think it's done wonders for the sport," says the young Australian.
Not everyone is so enamoured. Formula 1 champion Max Verstappen has refused to participate in recent seasons of the show, criticising what he perceives as its sensationalist approach. "I watched two episodes, but I was not very impressed," he said earlier this year. "It's just not my thing, faking rivalries."
Storytelling is inherently a subjective pursuit; one person's captivating storyline is another's sensationalism. Verstappen's critique may be borne from Drive to Survive's focus on the personal. The show strips away much of the sporting context and treats its subjects as human, with all the foibles that can leave on display. "Fundamentally, whether they're a Formula 1 driver, a tennis player, or a surfer, they have all the same issues we have; they just do a slightly sexier job," Martin says. "But they still wake up in the morning in a bad mood. Can I do this? Should I do this? Do I want to be doing this?"
Will the access-all-areas approach of these shows encourage sporting bodies to be more open? Or will it have the opposite effect?
A more serious objection to the genre is one of editorial control. Martin and his team have been given the kind of access that traditional sports journalists dream of. But that access comes at a cost. Box to Box's TV programs are made in partnership with the sporting bodies they cover. Those bodies control Box to Box's access. Which raises the question: has anything actually changed? Drive to Survive and its progeny may be billed as 'behind-the-scenes', but are they just a more sophisticated way for sports to exert their own narratives?
Martin brushes away such concerns. He says that in four seasons of working with Formula 1, he has only been told "no" once by the authorities. Conversely, he says, they have talked to other sports about similar projects but walked away when they felt they would not receive sufficient autonomy.
"The partners you work with are hugely important," he says. "It is a leap of faith [by the sport]." And while some sports are afraid to show their underbellies, Martin has been able to convince those he is partnering with that viewers want the gritty, warts-and-all reality. "Audiences are a bit more sophisticated now," he says. "They can see through PR fluff."
Thus one of the most compelling narrative arcs in the debut season of Make or Break. In a blunt early sequence, Australian surfing champion Tyler Wright unloads with an admission about her sport of choice: "Surfing is sexist," she says in an episode about the first women's competition at Pipeline, a famously heavy Hawaiian wave that had long hosted the men's competition. The episode had a happy ending—Pipeline now hosts both the men and women each year—but the filmmakers pulled no punches in detailing gender inequality within the sport, which persists despite this recent, positive reform.
This is all well and good, but there is another perspective on Formula 1's singular exercise of its Drive to Survive veto—that the sporting body does, ultimately, control the output. The organisation may be benevolent, and Martin may have persuaded them to put their warts on display. But at the end of the day, this is content—really, really good content—not journalism.
There's no way to accurately quantify the popularity of Martin's programs, as streaming platforms are notoriously cagey about viewership numbers. But like a distant planet whose existence can only be inferred by its gravitational pull on other bodies, there are indirect ways of measuring their success. The most obvious is what has been referred to as the Drive to Survive bump. This year's Melbourne Grand Prix didn't just sell out—organisers had to add additional seating to accommodate its newfound popularity. The composition of the crowd had noticeably changed, too—just under half of the attendees were female, up from about a quarter when the race was last held in 2019. New fans (this writer included) may have come for the stories, but they're staying for the sport.
That poses a dilemma for filmmakers: should they assume their audience knows the ins and outs of the sport, or should they hold their hands? "I think these are some of the hardest shows to make," Martin says when asked about striking the right balance. "How much surf do you really need in the show, how much explanation of surfing do you really need?" These are the questions that cause sleepless nights for Martin and his collaborators.
Unlike sports proper, storified sports have to provide a gradual, accessible explanation of the sport without dumbing them down to the point that long-time fans become alienated. Drive to Survive and Make or Break are in many ways the perfect case studies, as neither sport is really mainstream. Even non-fans understand the basics of football, but the technicalities of Formula 1 and the judging criteria for competitive surfing remain niche, almost exotic. Which begs the question: can Martin and his team do for mainstream sports what they've done for racing cars?
A similar question might be asked of the mainstream sports themselves: will the access-all-areas approach of these shows encourage sporting bodies to be more open to journalists? Or will it have the opposite effect, encouraging them to clamp down to ensure maximum control?
For now, there are only two certainties: sports organisations will do whatever it takes to draw in new audiences, and Box to Box will continue telling stories about those sports. For Martin, it's a labour of love as much as a paycheque. "We're massive sports fans," he tells me from Paris, where he's shooting the French Open for his upcoming tennis show. Soon, he'll leave for Monaco to capture the drama of yet another Grand Prix. It's a punishing schedule, but one he's happy to keep while he can. "We'd do it all day," he says. "We love telling stories in this space."