Four TED Talks that will make you a better storyteller
Got an internet connection? You got yourself a crash course in storytelling, care of these wisdom-imparting videos.
Published

1 Nov 2021
Written by
Categories
Reading time

4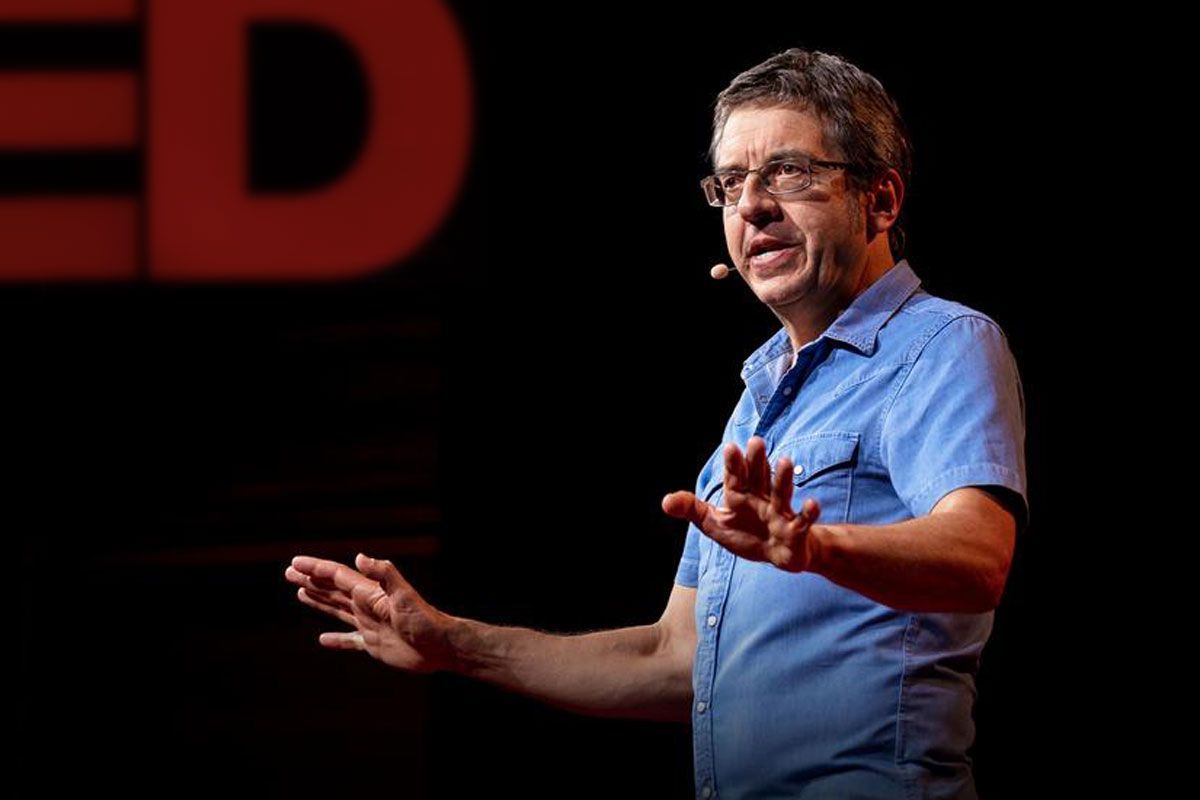 So you want to know what it takes to be a great storyteller, but you don't want to wade through dry academic papers or read entire books on the subject. What's a would-be narrative virtuoso to do?
You could purchase a MasterClass subscription—the online education platform is host to a few dozen storytelling seminars, some of which are pretty good. Or you could check out any of the nearly 100 TED Talks on the subject, many of which are very good, and all of which are available entirely free of charge.
Don't want to watch nearly 100 TED Talks about storytelling? Fair enough! We've picked four of the best, each of which has something useful to impart. Consider it the start of your storytelling education (minus the student loans).
The science of storytelling – Will Storr
People often think of storytellers as artists, stooped pensively over typewriters while channelling creativity out of thin air. But according to Will Storr, prize-winning journalist and storytelling guru, a lab-coated scientist may be the more useful figure to invoke.
In this TED Talk, Storr explains how anyone can use science to make themselves a better storyteller. Drawing parallels between literature and psychology, he argues that storytelling is a product of biological evolution, emerging from the brain "as naturally as breath emerges from between human lips".
He then goes on to give six tips from the annals of science that he says all good storytellers intuitively understand—and that all storytelling students should learn to master.
The quote that sums it all up: "By understanding exactly how [the brain has evolved to tell stories], not only can we make ourselves better storytellers, but we can even glimpse answers to some of humanity's most profound questions."
The new political story that could change everything – George Monbiot
Want to change the world? You'll need a good story. That's the idea at the heart of this brisk talk from George Monbiot, who you may know as one of the most influential political and environmental writers in the world-changing business.
According to Monbiot, anyone looking to achieve radical change needs to tell a story that does two things: explain the present, and outline a new vision of the future. Without this story, Monbiot says, you'll never inspire people to shake things up, for the simple reason that people care about stories more than facts or ideology. It's a persuasive argument, bolstered by Monbiot's research into neuroscience and evolutionary theory, and well worth considering as we head into an election year.
The quote that sums it all up: "When we want to make sense of something, the sense we seek is not scientific sense, but narrative fidelity. Does what we are hearing reflect the way that we expect humans and the world to behave?"
The common story structure of the greatest communicators – Nancy Duarte
Oral presentations are renowned for putting audiences to sleep and keeping PowerPoint sales artificially high. But as anyone who's ever watched a good TED Talk can attest, they can also be engaging, insightful and entertaining—provided they're structured the right way.
To work out why some presentations kill it and others don't, writer-researcher Nancy Duarte put hundreds of speeches under the microscope. She looked at everything from Steve Jobs' 2007 iPhone announcement to Martin Luther King Jr.'s "I Have a Dream", and discovered the hidden storytelling structure at the heart of history's best presentations and speeches.
Duarte outlines this structure—in a PowerPoint, no less—then explains how you can use the same story arch to ace your next presentation.
The quote that sums it all up: "If you communicate an idea in a way that resonates, change will happen, and you can change the world."
The clues to a great story – Andrew Stanton
As one of Pixar's longest-serving screenwriters, Andrew Stanton understands a thing or two about storytelling. His films are beloved by children the world over—but you don't have to be a kid to take something away from this storytelling masterclass. (In fact, given this talk's blue language, you probably shouldn't be a kid at all.)
From his number one commandment—"make me care"—to the lessons he learnt about making the audience work for their meal—"don't give them four, give them two plus two"—Stanton offers a series of easy-to-digest, even-easier-to-employ tips to improve any story, whether it's for children, adults or anyone in between.
The quote that sums it all up: "[Storytelling] is joke-telling. It's knowing your punchline. Your ending. Knowing that everything you're saying from the first sentence to the last is leading to a singular goal. And ideally, confirming some truth that deepens our understandings of who we are as human beings."
Looking for more storytelling tips from TED? Check out their storytelling video playlists, which cover everything from worldbuilding to the power of fiction to why we tell stories in the first place.